Knowing what's inside - and what is the function of the ingredient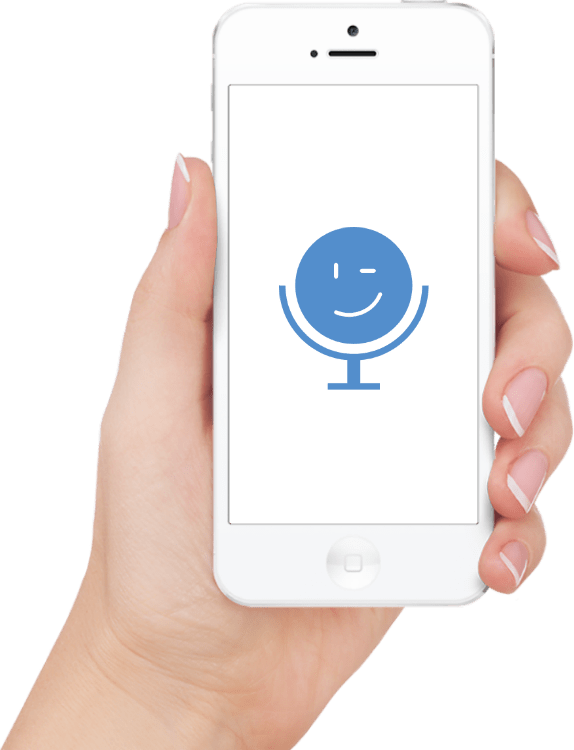 Information at the point of sale
The app provides answers to key questions when buying cosmetic products
What is the function of the ingredient in the product?
Which ingredients do I prefer, which ones should I avoid (allergic)?
How can I remember the complicated names?
Which products have I already liked?
How do I know if the ingredients in "my" products have changed?
Introduction of the COSMILE app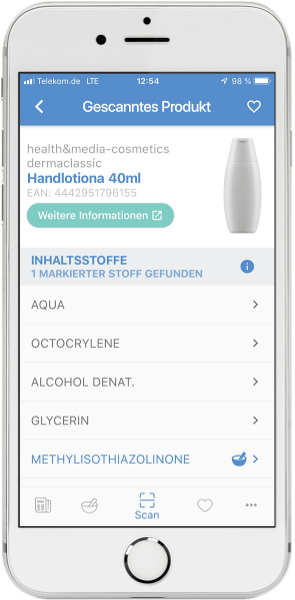 After scanning, the user receives a list of the ingredients contained in the product.
Ingredients selected by the user in the INCI filter are marked as match if they match.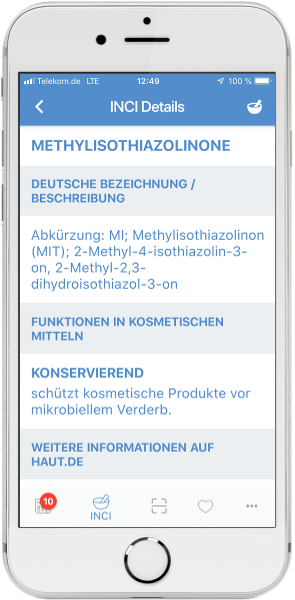 For all ingredients, the user receives a German name or description and explanation of the function in cosmetic products.
Additional information is provided by the portal haut.de.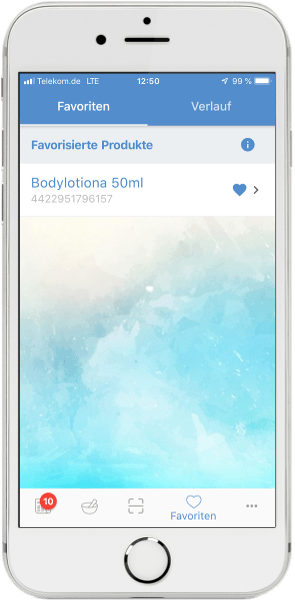 The personal product shelf can be managed under Favorites.
The user can manage his favorite products here.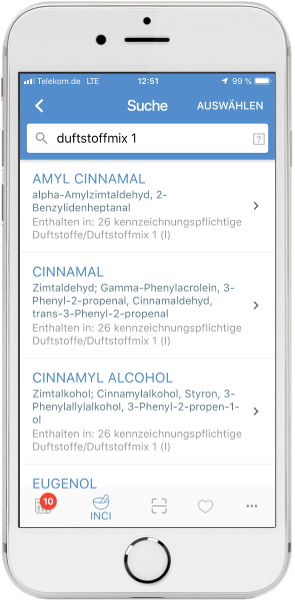 A comfortable text search allows the user to directly search for individual INCI ingredients or for ingredient groups.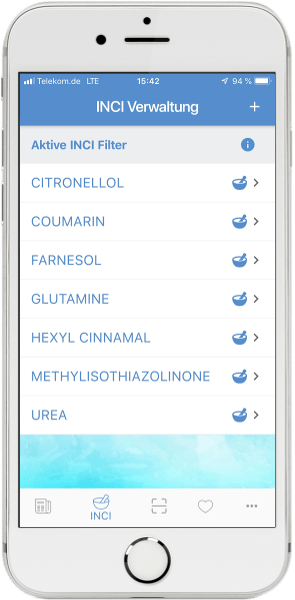 The individual INCI filter can be set as often as you like.
Here, the user can pre-select substances to which he wants to pay special attention. This is especially helpful for allergy sufferers.
Advantages and functionalities at a glance

On the packaging of cosmetics, all ingredients are listed under the term "Ingredients". The COSMILE app has a database that explains the more than 23,000 ingredients (INCIs) in easy-to-understand language.

With the "scanner" of the COSMILE app, a smartphone can read the barcode on a product and thus offers concrete information on the ingredients of a product and their tasks / functions.

All ingredients contained in the scanned product are explained by the German name or description and the respective function.

The user can highlight ingredients to which he wishes to pay special attention. This feature alerts users to these selected ingredients each time they scan the product. Especially for allergy sufferers of great importance.

The user can also mark his "favorite products". As soon as the composition of the product changes by the manufacturer, this is indicated in the COSMILE app. COSMILE also offers an information service concerning Product Recalls.

The COSMILE app is based on real product data that is constantly updated and expanded. Advice from consumers or organizations is appreciated by the COSMILE team.

The app is free but still free of advertising. It is available for download for both iPhones and iPads in the Apple App Store and on Google Play for Android smartphones.

No login required, no collection of personal data.

If the user wishes, NEWS from the field "cosmetics – beauty care – body care" are sent directly to the smartphone – so the interested person is always well informed. The FACTS present current topics in detail.